South Bend (SFDD3250-6) 650HP Street Dual Disc Clutch 6SP Ford 7.3L 1999-2003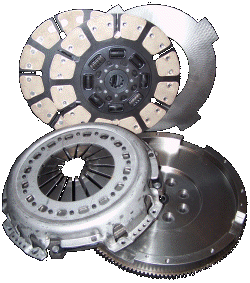 South Bend (SFDD3250-6) 650HP Street Dual Disc Clutch 6SP Ford 7.3L 1999-2003
South Bend 650HP Street Dual Disc Clutch 6SP Ford 7.3L 1999-2003 SFDD3250-6

This Street Dual Disc Clutch with Ductile Flywheel is very streetable clutch kit for a truck that regularly tows over 15,000lbs, has a few modification upgrades, or a truck with heavier horsepower or torque demands that require the additional heavy duty strength.
Diaphragm style pressure plate with light pedal pressure, both discs have 6 strong and heat resistant ceramic buttons on one side, with smooth engaging organic on the other side. 
This Heavy Duty Dual Disc Clutch features 6 ceramic buttons per disc side and South Bend Clutch's one of a kind, Dampened Center Plate is designed to Eliminate Rattle - provides quieter, dampened sound.
3250lb. Pressure Plate offers maximum holding power with easy light pedal pressure

This is not a Competition Sled Pulling Clutch
Kit Includes:
Ductile Flywheel

Crank Bolts

Diaphram type pressure plate with light pedal pressure

6 ceramic buttons per side of disc

Floater Plate, Throwout and Pilot Bearings