South Bend (G56-OFE) 475HP Clutch Single Disc Kit Dodge Cummins 05.5-11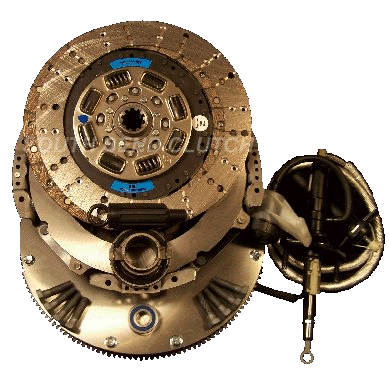 South Bend (G56-OFE) 475HP Clutch Single Disc Kit Dodge Cummins 05.5-11
South Bend 475HP Clutch Single Disc Kit Dodge Cummins 05.5-11 G56-OFE
This Dodge G56 South Bend Clutch Performance Clutch is a 475 horsepower single disc clutch with a heavy duty sold mass flywheel (replaces the stock factory dual mass flywheel). This South Bend Clutch Complete kit has everything needed for installation; crank bolts, heavy duty roller pilot bearing, throw-out bearing and alignment tool. INCLUDES REQUIRED HYDRAULIC ASSEMBLY HYDX.750 Adjustable Hydraulic Assembly. NOTE: It's very important to Break-In your clutch with 500 miles of stop and go driving before you pull a load.
Includes:
1670507-6 Flywheel
Hydx.750 Adjustable Hydraulic Assembly
Throw-out bearing
Organic and Feramic pads
Crank bolts, heavy duty roller pilot bearing, alignment tool and more.