South Bend (1950-64DFK) 400HP Clutch With Solid Mass Flywheel 6.4L Ford 2007.5-2010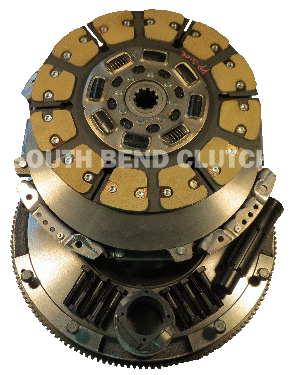 South Bend (1950-64DFK) 400HP Clutch With Solid Mass Flywheel 6.4L Ford 2007.5-2010
South Bend 400HP Clutch With Solid Mass Flywheel 6.4L Ford 2007.5-2010 1950-64DFK
This clutch disc is designed to absorb the vibrations of the diesel and gives the capability of hauling heavy loads without causing premature disk failure. This clutch will handle up to 400 hp and 800 ft. lbs. of torque.
South Bend Clutch Dual Friction Performance Clutch Kit 1950-60DFK with Heavy Duty Performance Flywheel. 400hp / 800tq Performance Spicer Style Hub Clutch Kit Includes: Clutch Disc, Pressure Plate & Throwout and Heavy Duty Pilot Ball Bearings
NOTE: It's very important to Break-In your clutch with 500 miles of stop and go driving before you pull a load.
Kit Includes:
Flywheel 1670406-64

Clutch Disc Ceramic Buttons

Pressure Plate

Throwout and Pilot Bearings