South Bend (1947-O-HD) 425HP Clutch 13" Single Disc Kit w/o Flywheel Dodge Cummins 2000.5-05.5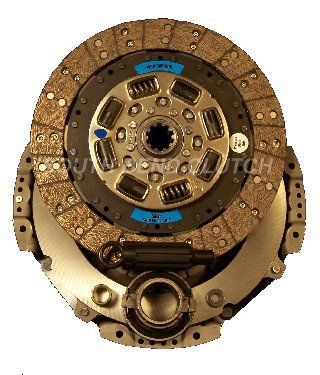 South Bend (1947-O-HD) 425HP Clutch 13" Single Disc Kit w/o Flywheel Dodge Cummins 2000.5-05.5
South Bend 425HP Clutch 13" Single Disc Kit w/o Flywheel Dodge Cummins 2000.5-05.5 1947-O-HD
The South Bend Clutch HD Series clutch disc features a 13" double wide, high torque clutch facings with heavy duty 6 spring dampening system. This clutch is designed for the moderately increased horsepower trucks, 425 hp 900 torque. offering a very smooth engagement with light pedal effort. This is the perfect towing clutch.
The pressure plate comes straight from our street series, dual disc clutch, with the extra wide casting and heavy duty design.
NOTE: It's very important to Break-In your clutch with 500 miles of stop and go driving before you pull a load.
Includes:
*Clutch Package (Must be used with 1947-OK-HD South Bend Clutch Flywheel)
*Alignment Tool
*Pilot Bearing
*Throwout Bearing