South Bend (1944-6OK) Ford 375HP Clutch With Solid Mass Flywheel 6SP Ford 7.3L 1999-2003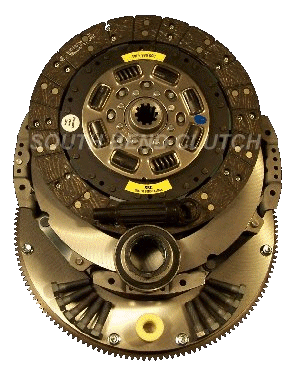 South Bend (1944-6OK) Ford 375HP Clutch With Solid Mass Flywheel 6SP Ford 7.3L 1999-2003
South Bend Ford 375HP Clutch With Solid Mass Flywheel 6SP Ford 7.3L 1999-2003 1944-6OK
South Bend Clutch Heavy Duty 375 horsepower Organic Facing Performance Clutch Kit is an excellent choice for replacing the stock clutch on a 6 speed Ford Powerstroke diesel pickup truck with no upgrades, or with moderate performance modifications. Includes heavy duty single/solid mass flywheel to replace the factory solid flywheel. Kit Includes: Flywheel, Clutch Disc, Pressure Plate & Throwout and Pilot Bearings. All clutch kits include everything needed to do the job including Kevlar pilot bushing.
It's very important to Break-In your clutch with 500 miles of stop and go driving before you pull a load.
Your clutch will last longer if you avoid down-shifting whenever possible.  Down-shifting flexes the pressure plate, causing uneven wear.  Just remember, Use your breaks instead--they're are alot less expensive to replace! 
Kit Includes:
167323 Flywheel

Crank Bolts

Clutch Disc

Pressure Plate

Throwout and Pilot Bearings