South Bend (13125-OFEK) 475HP 13125-OFEK South Bend Clutch With 13" Flywheel Dodge NV4500 94-04, Non-HO 235HP NV5600 1999-2000.5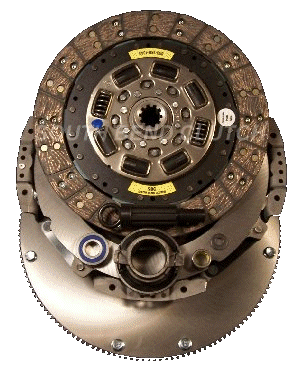 South Bend (13125-OFEK) 475HP 13125-OFEK South Bend Clutch With 13" Flywheel Dodge NV4500 94-04, Non-HO 235HP NV5600 1999-2000.5
South Bend 475HP 13125-OFEK South Bend Clutch With 13" Flywheel Dodge NV4500 94-04, Non-HO 235HP NV5600 1999-2000.5 13125-OFEK
This South Bend Clutch Converts stock 12 1/4" to 13-1.25" clutch. Complete Clutch Replacement Kit, comes with everything you need to do the job, including Throw Out Bearing, and Stock Needle Pilot Bearing, and alignment tool.

This Dyna Max kit features a variation from organic to organic and feramic or all feramic linings with marcelled fins. The pressure plate is modified for higher plate load and smoothness of engagement. This clutch was designed to cure premature disk failure due to high horse power and heavy hauling in the 5 speed and early 6 speed non-ETH 12 1/4" clutches. We have taken the 13" ETH clutch and modified it to accept the 1 1/4" input shaft. By doing this, it enabled us to offer a disk center that is 2-3 times larger and stronger than can be provided in the 12 1/4" clutch kits. This kit comes with a flywheel, re-drilled and refaced to accept the larger clutch and is rated to handle up to 475 horsepower & 1000 ft. lbs. of torque. Years 1988-2004 5 speed & 6 speed non-ETH.
NOTE: It's very important to Break-In your clutch with 500 miles of stop and go driving before you pull a load.
Your clutch will last longer if you avoid down-shifting whenever possible.  Down-shifting flexes the pressure plate, causing uneven wear.  Just remember, Use your breaks instead--they're are alot less expensive to replace!
Warranty: 1 year, 12,000 miles, whichever comes first, manufacturer defects only.
Includes:
13125-OFEK Organic-Feramic Disc Clutch
167890-5 Flywheel
Alignment Tool

Application:
1988-1993 5 Speed Getrag
1994-2004 5 Speed NV4500
1999-2000.5 6 Speed NV5600 without High Output 235hp
Hydraulic Assembly Upgrades are optional:
1994-1997 Hydraulic Assembly Hyd-HD
1998-2002 Hydraulic Assembly Hydx1.50
2003-2004 Hydraulic Assembly Hydx.750