Sinister Diesel (SD-COOLFIL-7.3) Coolant Filtration System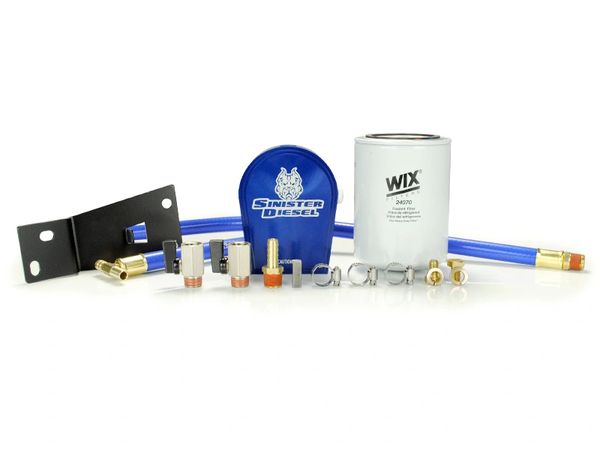 Sinister Diesel (SD-COOLFIL-7.3) Coolant Filtration System
Diesel Coolant Filter System For Ford Powerstroke F-Series 1999-2003 7.3 Liter Engine
Add years of life to your Ford Super Duty F-250, F-350 & Excursion 7.3 Liter diesel engine with this Water Coolant Filter Bypass System. Removing contaminates such as the casting sand and metal shavings (from the casting and machining process when your Powerstroke engine was made) means your Powerstroke's water pump, EGR cooler and engine oil cooler will last longer. This kit is designed to bypass and filter small amounts of the engine's coolant while your diesel engine is running. The CNC machined billet 6061 aluminum anodized construction filter boss attaches to a supplied bracket, which mounts to factory holes in your Ford Super Duty chassis. Filter boss includes 2 threaded inlet ports and 1 outlet port. This kit includes all fittings needed for installation. The filter can be easily unscrewed for replacement. We recommend replacement of the first filter at 500 miles with replacement of the second and third filters is at 3,000 miles each. After 3 changes, filter replacement can be done once a year. The silicone hoses fittings are pre-assembled for simple, leak-proof connections that factory tested at twice the recommended radiator cap pressure. An included mounting bracket installs into factory holes and no drilling is required.

Kit Includes:
Coolant Filter, Filter Block and Mounting Bracket
Silicone Coolant Lines

All necessary hardware and instructions for convenient installation. Recommended Tools: 9/16", 13/16" wrench, 8mm socket, 3/8" 12 point socket or 5/16" combination wrench, large adjustable wrench, regular screw driver, utility knife, diagonal cutters
For 1999, 2000, 2001, 2002 and 2003 Ford Super Duty F-250 and F-350, and Ford Excursion, with the 7.3L Powerstroke diesel engine.