Rigid Industries (98000) SR-M Back Up Light Kit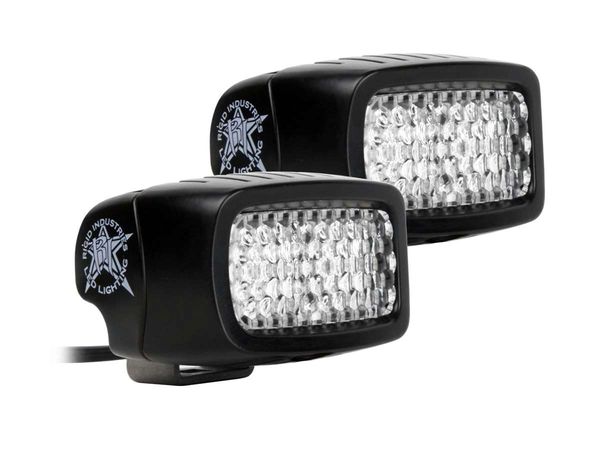 Rigid Industries (98000) SR-M Back Up Light Kit
Rigid Industries SR-M Back Up Light Kit 98000
Features: 
Patented Hybrid Optics
60° Diffused Pattern
Extended Wire Harness
50,000+ Hr LED Lifespan
Instant On / Off - No Warm Up
RoHS Compliant
Over / Under Voltage Protection
Cast Aluminum Housing
Durable Polycarbonate Lens
Integrated Thermal Management
GORE

®

Pressure Equalizing Vent
Designed, Engineered, &
Assembled in the USA
Specifications: 
Watts:

10

Amp Draw:

0.72

LED's:

2

Raw Lumens:

784

Lux @ 10m:

9.7

Beam Distance:

62.1 m

Peak Beam Intensity:

966 cd
This new lighting kit includes everything you need to install a pair of Rigid Industries back-up lights on your vehicle: Two LED lights, and extended 25' wiring harness hardware and black covers. This kit features our patented Hybrid optics system combined with a Diffused lens, to offer a powerful 60deg beam pattern for unmatched visibility.
SR-M (Single Row Mini) - The Rigid Industries SR-M LED Light is one of the most versatile lighting products on the market today. This compact LED light can be used for virtually any lighting application - from off-road to agriculture. The SR-M utilizes the same technology as our D-Series, but is half the size and incorporates half the number of LED's. The size and shape of the SR-M LED Light allows it to fit almost anywhere. Its cast aluminum housing and polycarbonate lens are sealed against the elements for years of trouble-free operation.
Hybrid Optics - Our patented Hybrid optics system is the most powerful, most efficient LED optics system on the market. Utilizing a combination of lens and reflector, the Hybrid optics system captures the maximum amount of light emitted from the LED and projects it exactly where you want it.
Diffusion Lens - Perfect for scene or area lighting, our diffusion lens was specifically engineered to project light at a 60º flood pattern. Combine that with our patented optics and you have the best LED flood light in the industry. Like our standard lens, the diffusion lens is made from optically clear, unbreakable polycarbonate plastic.
Quality Construction - Our circuitry is designed in-house to be more powerful, be more efficient, and generate less heat. Our durable aluminum housings feature custom, over-sized heat sinks which keep the temperature down and allow our LED's to run cooler and brighter. All Rigid Industries LED lights receive a high quality powder coat finish, a custom-molded rubber seal, and an unbreakable, scratch resistant lens. Rigid Industries LED lights are engineered to withstand whatever you, the road, or nature can throw at them.