H&S (451002) 03-07 Cummins 5.9L 10MM Stroker CP3 Pump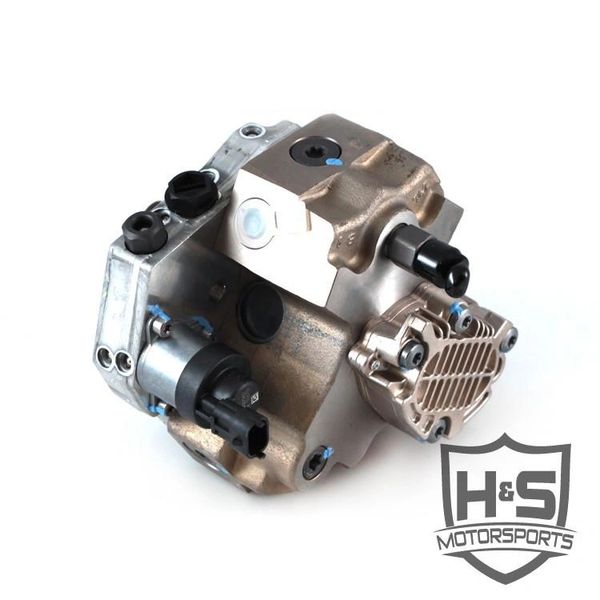 H&S (451002) 03-07 Cummins 5.9L 10MM Stroker CP3 Pump
H&S 03-07 Cummins 5.9L 10MM Stroker CP3 Pump 451002

Applications
Fits all 03-07 5.9L Cummins
Features
Sometimes stock just doesn't cut it. That's why we are proud to offer our 10MM Stroker CP3 Pump for the 2003-2007 5.9L Cummins. This pump is capable of delivering 30% more fuel than a brand new stock unit.
How do we do this? We start with a BRAND NEW (not remanufactured) Bosch pump and swap the stock CP3 camshaft with one that provides more lift, hence the name "Stroker". By doing that alone, we are able to increase the potential fuel output by 30%. No other modifications to the CP3 are required. Most experienced tuners will be glad when you tell them that the FCA (Fuel Control Actuator) has not been modified.
Is this pump just for high horsepower applications? Definitely not. Even on a near-stock truck just needing a CP3 replacement, this is a great option since it will provide headroom for future modifications.
Kit Contents
5.9L 10MM Stroker CP3 Pump
Will cause check engine lights if not used with High Sulfur Tuning.
Not street legal. Race or Off-road use only.
WARNING: This high performance product is intended SOLELY for closed-course racing use and is not street legal in ANY state. This product cannot be used on any vehicles registered or certified for highway use. Please check your local, state, and federal laws before purchasing! Not street legal. For race or Off-road use only. Not for sale in California.