H&S (342001) 08-10 Ford 6.4L Wastegate Kit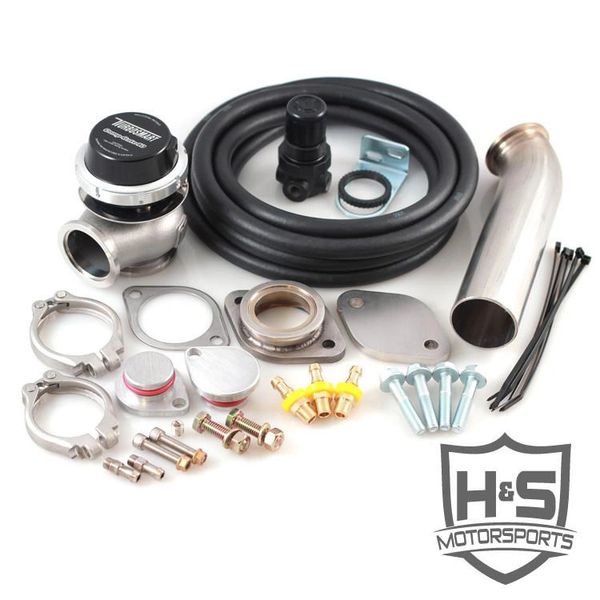 H&S (342001) 08-10 Ford 6.4L Wastegate Kit
H&S 08-10 Ford 6.4L Wastegate Kit 342001
Applications
Fits all 08-10 Ford 6.4L Power Stroke
Features
In high-compression diesel engines, excessive drive pressure can not only rob horsepower, but also be detrimental to engine components such as turbochargers, head gaskets, push rods, and many others.
The factory compound turbocharger system on the 6.4L Power Stroke is known to produce excessive back pressure even in stock form. This problem is often amplified with the addition of more fuel, injection timing, and especially nitrous oxide.
This is why H&S Motorsports has released the 6.4L Power Stroke Wastegate Kit. The kit is designed to bolt to the factory driver's side EGR feed pipe and vents excess drive pressure to the atmosphere via a short dump tube. On test vehicles with aggressive tuning, we have been able to virtually cut drive pressure in half. Your results may vary, but EGT temperatures and slight HP gains (5-10HP) are achievable with a correctly tuned wastegate.
Since each application will differ, wastegate regulator adjustments will be required for your particular vehicle.
Kit Contents
Turbosmart Comp Gate 40mm
Gate Dump Pipe
Air Regulator
Installation Hardware
WARNING: This high performance product is intended SOLELY for closed-course racing use and is not street legal in ANY state. This product cannot be used on any vehicles registered or certified for highway use. Please check your local, state, and federal laws before purchasing! Not street legal. For race or Off-road use only. Not for sale in California.