H&S (212001-2) 07-18 Dodge 6.7L High Flow Intake Manifold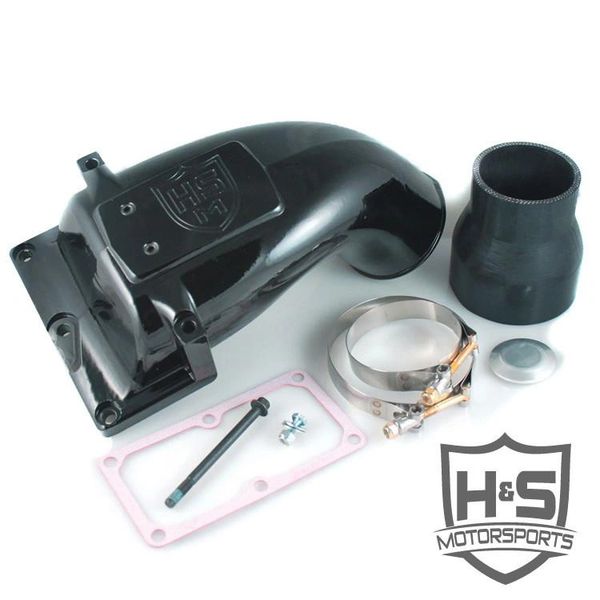 H&S (212001-2) 07-18 Dodge 6.7L High Flow Intake Manifold
H&S 07-18 Dodge 6.7L High Flow Intake Manifold 212001-2

Applications
Fits 2007 - 2018 Dodge 6.7L Cummins Pickup **Does NOT fit Cab and Chassis models**
AFTERMARKET ECM CALIBRATION REQUIRED. YOU ARE RESPONSIBLE FOR VERIFYING COMPATIBILITY, CONTACT YOUR TUNING PROVIDER.
Includes
 
One High Flow Intake Manifold
One 4" to 3" Reducing Coupler
One 4" Clamp
One 3" Clamp
One OEM Intake Manifold Gasket
One EGR Crossover Plug
One OEM Intake Manifold Bolt
One H&S Dipstick Bracket
One Dipstick Bracket Hardware
One Full Color Instruction Manual
Product Description
The OEM intake manifold on a 6.7L Cummins is designed around factory ECM programming. When aftermarket programming is being utilized, this opens the door to remove the restrictive OEM intake manifold and replace it with the High Flow Intake Manifold from H&S Motorsports. This kit will include everything necessary to replace your OEM intake manifold.
This product is offered in a raw (aluminum) form, or a high gloss powdercoat. Please make your finish selection above when ordering.
WARNING: This high performance product is intended SOLELY for closed-course racing use and is not street legal in ANY state. This product cannot be used on any vehicles registered or certified for highway use. Please check your local, state, and federal laws before purchasing! Not street legal. For race or Off-road use only. Not for sale in California.