H&S (211003-1) 07.5-18 Cummins 6.7L Dual High Pressure Fuel Kit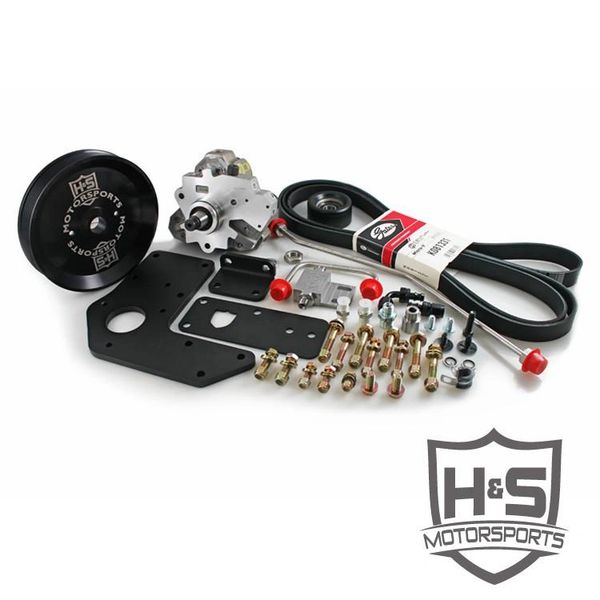 H&S (211003-1) 07.5-18 Cummins 6.7L Dual High Pressure Fuel Kit
H&S 07.5-18 Cummins 6.7L Dual High Pressure Fuel Kit 211003-1

Applications
Fits all 2007 - 2018 6.7L Cummins


You must use an aftermarket lift pump with this product. AirDog and FASS are the two most commonly used.
This product may not work with portions of the EGR system installed.
Custom engine tuning may be required depending on other modifications.
Description
H&S Motorsports is pleased to introduce the Dual High Pressure Fuel Kit for the 2007-2018 6.7L Cummins. After having such great success with our 6.6L LML and 6.7L Ford Dual High Pressure Fuel Kits, we decided to use the same proven products and engineering principles to develop a kit for the Cummins platform. The Cummins engine is known for its strength and reliability and we did our best to apply the same characteristics in the development of this product.
Unlike most dual pump kits on the market, our kit features a TRUE dual rail feed solution. With our system, the secondary CP3 pump feeds the back of the fuel rail independently to ensure that the high pressure fuel lines do not become a restriction at any engine RPM or power level. This also allows the factory CP3 pump and high pressure line to remain in the stock configuration. Our unique pump mounting system positions the secondary CP3 pump low and the serpentine belt is routed in such a way that it maintains optimal surface contact for the secondary CP3 pump and the factory power steering pump.
Even with the standard "stock" pump, this system is easily capable of 800+ WHP worth of high pressure fuel supply! If that's not enough for you we also offer modified 6.7L Cummins CP3 pumps to meet your fueling demands.
The CP3 pump we include with the kit is a brand new OEM unit from Bosch. That's right, BRAND NEW, not a remanufactured unit like many shops include. The key to ensuring the longevity of any high pressure fuel pump is by providing the high pressure fuel system with clean, waterless diesel fuel. Any fuel contamination that reaches the high pressure fuel system can be detrimental to reliability and performance. We highly recommend using AirDog or similar lift pump for proper filtration and water-separation.
If you are looking for the ultimate in high pressure fuel supply, look no further than the H&S Motorsports Dual High Pressure Fuel system.
Kit Contents
1 - Brand New Bosch Cp3 Pump
1 - H&S Motorsports Pulley
1 - Serpentine Belt
1 - Pump Brackets/ Hardware
1 - Pump Control Module
1 - High Pressure Fuel Lines / Fittings