H&S (132001-63) 11-16 GM 6.6L SX-E Turbo Kit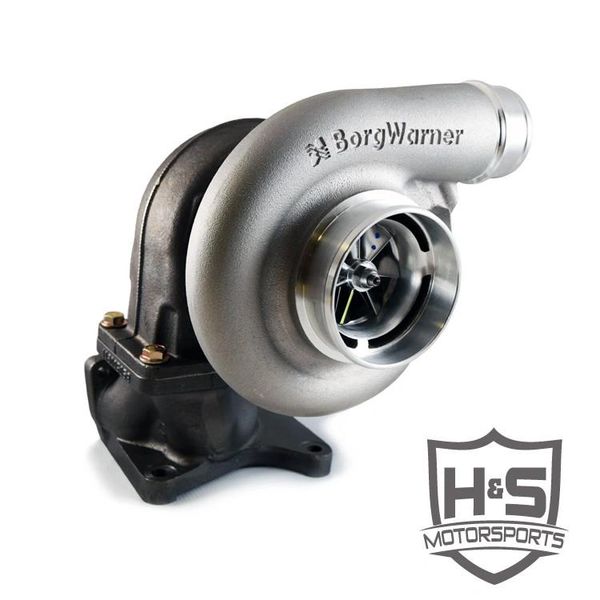 H&S (132001-63) 11-16 GM 6.6L SX-E Turbo Kit
H&S 11-16 GM 6.6L SX-E Turbo Kit 132001-63

Applications
Fits all 2011 - 2016 6.6L LML Duramax
Aftermarket ECM calibration required. You are responsible for verifying compatibility with your tuning provider.
Description
H&S Motorsports is proud to introduce the SX-E Turbo Kit for the 2011 - 2016 6.6L GM Duramax diesel! The Variable Geometry Turbocharger (VGT) that comes equipped on the 6.6L LML Duramax from the factory can quickly become a liability when it is pushed beyond what the OEM designed it for. Excessive drive pressure and exhaust gas temperature are common issues associated with the factory VGT. This kit is designed to replace the factory VGT with a new BorgWarner SX-E unit to provide not only a significant performance increase, but also to gain reliability over the factory unit.
We have performed extensive testing of BorgWarner's new SX-E line of turbochargers and they have proven to be a great match for the 6.6L Duramax engine. This kit comes standard with the 1.00 A/R divided (twin scroll) turbine housing (unless requested otherwise) and our true divided exhaust manifold takes full advantage of the twin-scroll design. The 73mm turbine wheel is larger than we are used to using, but the twin scroll design helps to retain the response and drive-ability in the lower RPM range. The benefits of the 73mm turbine wheel include lower drive pressure, lower EGTs, and more power! During our testing we experienced an average of a 170 degree drop in peak exhaust gas temperatures when compared to the factory VGT. Durability and reliability also play a big part in our parts selection and BorgWarner has stepped up their game with the 360-degree thrust bearing assembly that is featured in all SX-E turbochargers.
Without any fueling or tuning changes, you can expect to pick up at least 60-100 WHP (depending on which SX-E option is used). With complimenting fuel modifications, these turbochargers have been known to put down some serious power!
Whether you're looking for a performance gain or just wanting something to replace the stock junk, this kit is a great solution for you. It will make your 6.6L Duramax run like it is supposed to!
We offer several different compressor wheel options with this kit:
- 63mm Forged-Milled Compressor Wheel (575-625 WHP)
- 64mm Forged-Milled Compressor Wheel (600-650 WHP)
- 66mm Forged-Milled Compressor Wheel (650-700 WHP)
- 69mm Forged-Milled Compressor Wheel (700-750 WHP)
* All of the above options include the 73mm turbine wheel and .91 A/R divided turbine housing
WARNING: This high performance product is intended SOLELY for closed-course racing use and is not street legal in ANY state. This product cannot be used on any vehicles registered or certified for highway use. Please check your local, state, and federal laws before purchasing! Not street legal. For race or Off-road use only. Not for sale in California.