H&S (122009) 2017+ Ford 6.7L Intercooler Pipe Upgrade Kit (Tuning Required)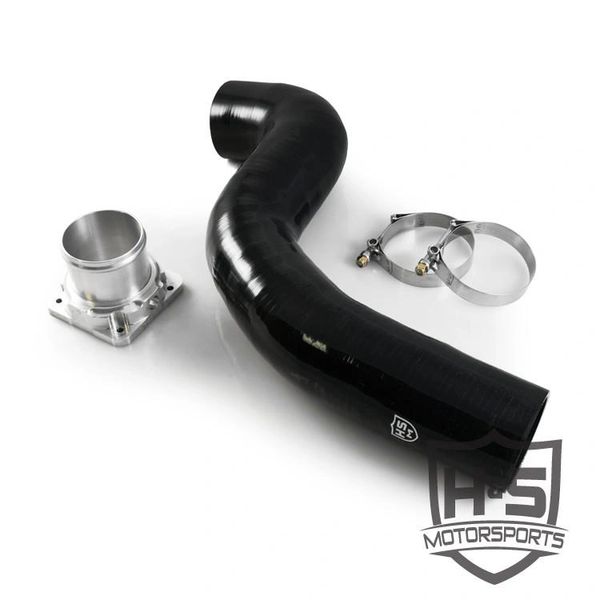 H&S (122009) 2017+ Ford 6.7L Intercooler Pipe Upgrade Kit (Tuning Required)
H&S 2017+ Ford 6.7L Intercooler Pipe Upgrade Kit (Tuning Required) 122009

Applications
Fits all 2017 Ford 6.7L Power Stroke **AFTERMARKET ECM TUNING REQUIRED**
Features
H&S Motorsports is proud to introduce the Intercooler Pipe Upgrade Kit for the 2017 6.7L Ford Powerstroke! This kit allows you to replace the factory plastic/rubber intercooler hose assembly with upgraded components. The factory plastic hose adapter is replaced with a CNC-machined billet aluminum adapter (Patent Pending) that includes provisions for reinstalling the factory charge-air temperature sensor. The factory rubber intercooler hose is replaced with an upgraded 5-ply stainless reinforced silicone hose that is proven to withstand serious abuse.
Rather than a stainless steel pipe and two silicone couplers, a single 5-ply stainless reinforced silicone hose is included to connect the intercooler to the supplied HSM billet hose adapter assembly. This means two "clamped" connection points have been eliminated entirely which makes for improved reliability and MUCH easier installation. The custom molded silicone hose matches the exact contour/shape of the factory intercooler piping which also eliminates the need to relocate the factory power steering reservoir.
This 5-ply stainless reinforced silicone hose is engineered to withstand over 100 PSI at 400°F!
Still included in this kit is our beautiful CNC-machined billet aluminum hose adapter assembly that replaces the factory air intake valve to allow the use of a regular t-bolt clamp along with all of the clamps and hardware required to complete the installation quickly and painlessly.
Why would you need to replace the factory plastic intercooler pipe?
- We have seen the factory intercooler pipe fail on completely STOCK trucks.
Why does this happen?
- Turbochargers not only produce pressure, but also generate heat in the process. Once the combination of heat and pressure exceeds what the plastic intercooler pipe can handle, it will fail catastrophically, which could potentially leave you stranded on the side of the road.
Why do you need aftermarket ECM tuning with this product?
This product removes the throttle body that was originally located in your OEM intake piping. Most aftermarket ECM tuning will be capable of calibrating this valve out of the system, but please check with your tuning provider to see if this product is supported. H&S Motorsports is not responsible for verifying if your vehicle is supported. If you cannot confirm that your ECM tuning supports this product, we suggest purchasing this version instead: Intercooler Pipe Upgrade Kit (OEM Replacement / Silicone Version)
Don't get stranded, install the H&S Motorsports Intercooler Pipe Upgrade Kit.
Kit Contents
1-HSM Billet Hose Adapter Assembly
1-5-Ply Stainless Reinforced Silicone Hose
2-Stainless Steel T-Bolt Clamps
1-Pack of Installation Hardware