H&S (121001-1) 11-18 Ford 6.7L Dual High Pressure Fuel Kit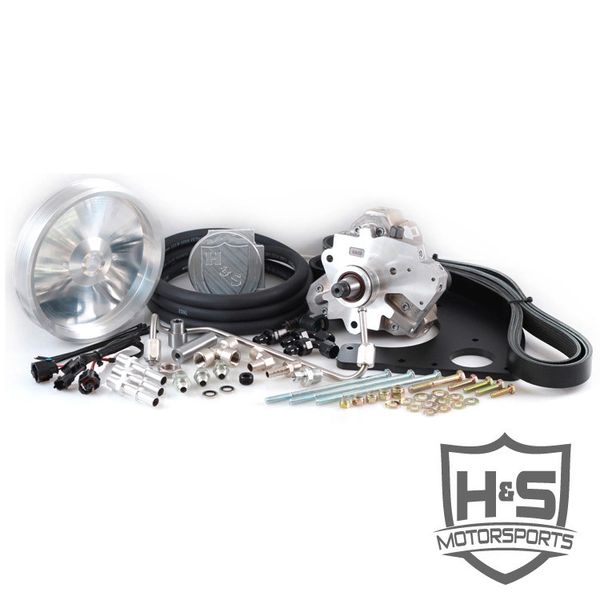 H&S (121001-1) 11-18 Ford 6.7L Dual High Pressure Fuel Kit
H&S 11-18 Ford 6.7L Dual High Pressure Fuel Kit 121001-1

Applications
Fits all 2011 - 2018 Ford 6.7L Power Stroke
This product will NOT work with trucks that have dual alternators. H&S Motorsports CP3 pump is mounted where a dual alternator would be located.
This product may not work with the EGR cooler installed. It may need to be removed.
This product MUST be used in conjunction with custom tuning calibrations. Failure to install the correct calibrations can result in engine damage.
HSM recommends running an upgraded Low Pressure Fuel System when running this item.
Note: If you have a factory dual sided Serpentine belt you must re-use. If the Serpentine belt is single sided it must be replaced with the new supplied belt.
Description
H&S Motorsports is pleased to introduce the Dual High Pressure Fuel Kit for the 2011-2018 6.7L Ford Powerstroke. This kit has been in development since June 2012 and is finally available to the public after over 12 months of testing and refinement. The diesel industry has been longing for this modification ever since the release of the 6.7L Powerstroke and now the wait is over.
Our friends over at H&S Performance have been testing this kit on their 2011 F250 for over 4 years. This is the same truck that made 881 horsepower and 1669 ft/lb of torque on a Mustang 1100SE dyno during the "Breaking Point" live feed in which they intentionally set out to find the limits (or breaking point) of the factory 6.7L Powerstroke bottom end. Prior to the "Breaking Point" event, the truck was driven regularly by not only the engineers at H&S Performance, but also the members of the race team. Needless to say, they were (and still are) impressed with the ability of the kit to maintain rail pressure, even in the most demanding conditions.
If you are looking for the ultimate in high pressure fuel supply, look no further than the H&S Motorsports Dual High Pressure Fuel system.
So what's wrong with the factory CP4 fuel system?
Nothing is necessarily WRONG with it, but the factory CP4 fuel pump by itself is only capable of providing enough fuel to safely produce around a maximum of 480-500 horsepower. Once your power goals exceed that 480-500 HP range, more fuel is an absolute requirement. Assuming your factory CP4 pump is in good condition, this kit is easily capable of producing 900+ HP worth of high pressure fuel supply.
Will the CP3 pump ever wear out or deteriorate over time?
The CP3 pump we include with the kit is a brand new OEM unit from Bosch. That's right, BRAND NEW, not a remanufactured unit like many shops sell. The key to ensuring the longevity of any high pressure fuel pump is by providing the high pressure fuel system with clean, waterless diesel fuel. Any fuel contamination that reaches the high pressure fuel system can be detrimental to reliability and performance. We highly recommend using our Low Pressure Fuel System or similar lift pump for proper filtration and water-separation.
Why do we use a CP3 in instead of a CP4?
There are a few reasons we chose the CP3 over the CP4:
The CP3 pump has been proven to be reliable. This pump technology has been used on the Cummins and Duramax platform for years.
While the CP4 has the capability of delivering higher pressures, it lacks the volume of the CP3. With both pumps installed, you get the best of both worlds - high pressure and high volume.
Price. With the CP4 being a newer pump, it is obviously more expensive. By saving on the pumps included with the kit, we can pass that savings directly on to the customer.
If your fueling demands exceed what the stock CP3 and CP4 are capable of providing, one of our 6.7L Cummins 10MM Stroker pumps can easily be used as a replacement while still being able to re-use all fittings and lines included with the kit.
Kit Contents
1 - Brand New Bosch Cp3 Pump
1 - H&S Motorsports Pulley
1 - Serpentine Belt
1 - Pump Bracket/ Hardware
1 - Injection Pump Harness
1 - High Pressure Fuel Line/ Fittings
1 - H&S Motorsports Fuel Filter Conversion Kit