Fleece 2011-2016 LML S362 FMW Turbo Kit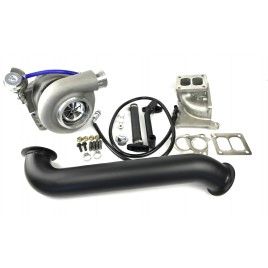 Fleece 2011-2016 LML S362 FMW Turbo Kit
Fleece 2011-2016 LML S362 FMW Turbo Kit FPE-LML-S362-V-FMW
The Fleece Performance LML S362 FMW Turbo Kit is a replacement turbocharger kit for 2011-2016 LML Duramax diesels. It comes with a 62mm FMW compressor wheel and high flow turbine wheel rated for 625 RWHP. This turbocharger kit is guaranteed to enhance your driving experience. You'll enjoy the quick spool up and throttle response of a small turbo and still get the big top end power you're looking for.
Important Notes:
Aftermarket tuning and aftermarket high flow exhaust are required for installation of this turbo.
The downpipe/exhaust interface is the 2011-2015 v-band style. 2015.5-2016 trucks will be required to use a 2011-Early 2015 exhaust system.
Features:
Turbo Kit is rated for up to 625 RWHP
Improved Throttle Response
No additional hardware required
Kit Includes:
Borg Warner FMW 62/68/.83 IWG T4 Turbocharger
4.4" Stainless Steel T4 Duramax Turbo Pedestal without Wastegate
Duramax Remote Turbo Oil Feed Line for 1/4 NPT Turbo Oil Inlet (EX: Borg Warner S300 & S400 Frame Turbos)
2011-2016 Duramax Turbo Drain Tube Kit (LML) FPE-DTDT-1116
(2) M8 × 1.25 Flange Head 
(2) Breeze Mini Hose Clamp SAE 16 w/ Plated Hex Screw
(4) M10 x 12 x 5.3 x 19.7(37) Stud
(4) Nut for Stud Kits
T4 Divided Turbine Flange Gasket
16MM Metric Port Plug Allen Head
2011+ Duramax LML Rear Engine Cover Coolant Return Plug FPE-LML-CP
1/2' Billet Aluminum Universal Block Off Plug w/ hose clamps FPE-34071
Breeze V-Band 4.13' w/ 400-Series SS Bolt 
3" Stainless Steel Duramax Downpipe w/ turbo side clamp  FPE-34182
Duramax Up-pipe Gasket (Upper) (2)
3" piece of 1/2" heater hose and hose clamp