Fleece (FPE-673-2G-NT) 2007.5-2009 2nd Gen Swap Kit (No Turbo)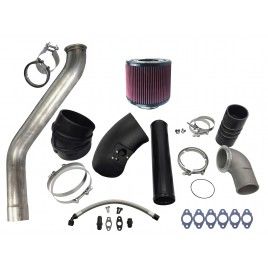 Fleece (FPE-673-2G-NT) 2007.5-2009 2nd Gen Swap Kit (No Turbo)
Fleece 2007.5-2009 2nd Gen Swap Kit (No Turbo) FPE-673-2G-NT
This kit is referred to as a 2nd Gen swap becuase the turbo location is moved from its factory location to the same location as the factory location of a 2nd Generation Dodge/Cummins pickup. In other words, the swap locates the turbo in the center of the manifold with the outlet flange angled down. The major benefit for Common Rail trucks is the use of a divided manifold. Capitalizing on the individual cylinder impulses in a divided manifold greatly increases spool up and driving characteristics with a properly matched turbo.
Fleece Performance 2nd Swap Kits come as complete as a kit can come. This level of work on any truck should be done by a competent technician or capable mechanic.
This kit is designed to be used with an S400 turbocharger with a 5" compressor cover inlet, 4.2" OD compressor cover discharge, 4.625" OD turbine housing discharge, and T4 turbine housing foot. It is also designed to be used with a 2nd Gen T4 Steed Speed or ATS Cast Manifold with the outlet flange angled down.
Kit Contents Include:
-FPE ManTake 5" Intake Setup 'w' Filter
-S400 Discharge Adapter 'w' Charge Pipe, Boots, & Clamps
-FPE Cummins Turbo Feed Line Kit
-FPE Cummins Turbo Drain Line Kit
-T4 Turbine Flange Studs & Gasket
-Cummins Exhaust Manifold Gaskets
-FPE Flat-V 2nd Gen Stainless Steel Downpipe 'w' Clamps
Kits can be sold with or without a standard T4 Steed Speed Manifold or Cast Manifold