Diesel Site (WW38R) Garrett Powermax Turbo/D66 Turbo 7.3 Powerstroke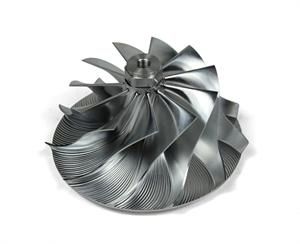 Diesel Site (WW38R) Garrett Powermax Turbo/D66 Turbo 7.3 Powerstroke
Diesel Site (WW38R) Garrett Powermax GTP38R/D66 Turbo 7.3 Powerstroke WW38R

Special Note: This turbo has a standard right hand thread - meaning you turn the compressor wheel to the left to loosen. No need to torque the Wicked Wheel on. Simply snug the Wicked Wheel until it fully seats. It will self-tighten to full torque. The Wicked Wheel is balanced at the factory. Turbo balancing after installation is not necessary.


Need help deciding which wheel to purchase?
The 66 model will have better bottom end, quicker spool, and lower EGTs towing.
The 38R model will produce more peak hp.
If you have stock injectors, or have larger hybrids with tuning to pull back power- the 66 model will be better.
If max power is important and you have larger injectors - the 38R model will be better.
If you have an aftermarket "D66" style turbo with an un-ported compressor cover - the 66 model is a perfect choice.
Before pulling off the compressor cover: The compressor cover can rotate 360 degrees. To eliminate you having to find the right index again after re-assembly, using a marker, mark a line across the break in the separation joint in the cover in two different spots. When you re-assemble the housing, you simply line up your old lines and you will save yourself a lot of time.