BD-Power (1070217LX) Torque Converter Low Stall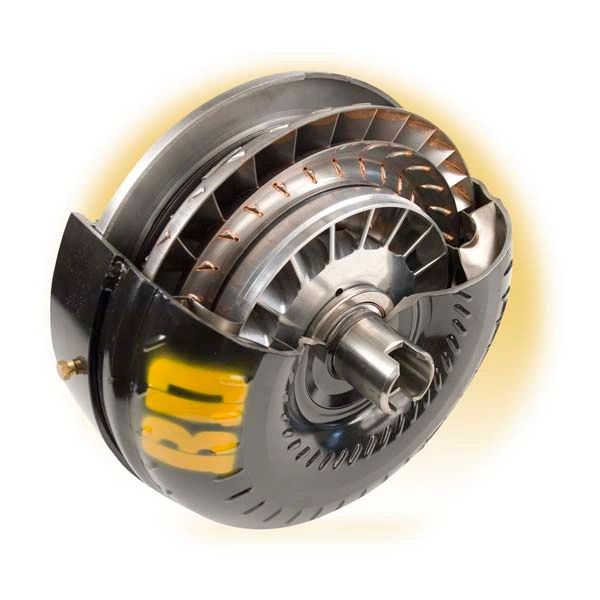 BD-Power (1070217LX) Torque Converter Low Stall
BD Power Torque Converter 2003-2007 Cummins 48RE Low Stall-1070217LX

The most dependable Torque Converter for stock and mild power on the market today.
Street and Towing Applications!
In high torque, high-load situations, the torque converter bears the brunt of the engine's force. Stock torque converter stator pitch designs slip excessively, causing the oil to foam and ever heat, and the front cover clutch surface to warp. But BD's torque converter was specifically designed to handle the kind of punishment you dish out. 

Built on our premises in a state-of-the-art transmission facility, BD converters feature a heavy duty hot forged steel cover, much thicker than stock and it is actually stronger than steel billet.  We double the amount of lock up clutch material of a stock unit. We furnace braze the turbine and impellor fins to prevent internal leakage, turbine and lock up piston are balanced separately and then as a complete assembly. Turbine to impellor clearance and over all convertor height is verified. Our own cast aluminum stator design maximizes the low-speed torque characteristics of the Cummins engine and we even have high rpm stall stators for those race applications. 

On the street, you'll notice that stall speed is reduced significantly, resulting in more positive engagement in drive, enhanced low-speed drivability, less engine rpm and better fuel economy.  
If you tow or just use a daily driver, you'll appreciate that this model convertor is designed to handle up to 1,000 lb.-ft of torque. It does not have a hard engagement; it is designed for high power towing applications.

Also available: heavy duty converters for non-lock-up 727 & 518 transmission in the 1988-1993 model years. Perfect for street, towing and for exhaust brake use and improves fuel economy.
NEW WARRANTY : 36-month / 150,000 mile limited warranty on non competitive, racing or sled-pulling applications.  See warranty statement for further details.
*If customer does not send core back within 14 days. Customer will not be refunded.