BD-Power (1064442FPTO) 4R100 Exchange Transmission 99-03 2WD PTO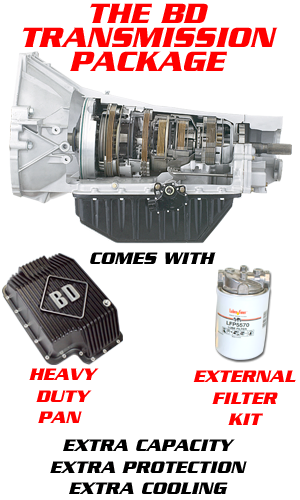 BD-Power (1064442FPTO) 4R100 Exchange Transmission 99-03 2WD PTO
BD Power 1999-2003 2WD PTO 4R100 Transmission - 1064442FPTO
To some, it is a challenge to simply disassemble and assemble a Ford transmission. For BD, the challenge was to improve the durability and performance of these transmissions in demanding, high-torque diesel applications.
 
Highlights of our modifications:
 
BD rigid aluminum heavy duty transmission pan
   • Adds 6qt extra oil capacity
   • Reduces case flex
   • Reduces internal oil leakage
   • Heat-dissipating fins keep temperature down
   • Magnetic drain plug
Fully rollerized geartrain
Tighter clutch packs that provide a quicker shift
30%-40% more clutch material with additional steels
Machined center support
Machined intermediate piston
Machined low/reverse pressure plate
Machined rear ring gear hub
Improved internal lubrication by adding high power boost valves
Reworked front pump
Added lube circuits to OD planet
Added lube and support to output and intermediate shafts
Improved bearing designs
Upgrade supports
Upgraded sprags
Replaced all aluminum planetaries with steel
Sure-loc snap rings
Drilled and tapped direct and intermediate feeds to prevent leaks at case
Re-programmed accumulator body
   • Full shift kit with line mod valve to increase pressures
   • Enhanced oil flow
   • Increased cooler pressure
   • Increased pressure to converter
   • Creates positive clutch application
Created lube circuit for towing in overdrive
Solenoids hard wiring providing high temperature resistance
1990-2003 include auxiliary frame mounted full flow filter kit
 
WARRANTY: 36-month / 150,000 mile limited exchange warranty on non-competitive, racing or sled-pulling applications. Some conditions apply - See warranty statement for further details.
*If customer does not send core back within 14 days. Customer will not be refunded.