BD-Power (1047510) Turbo Thruster II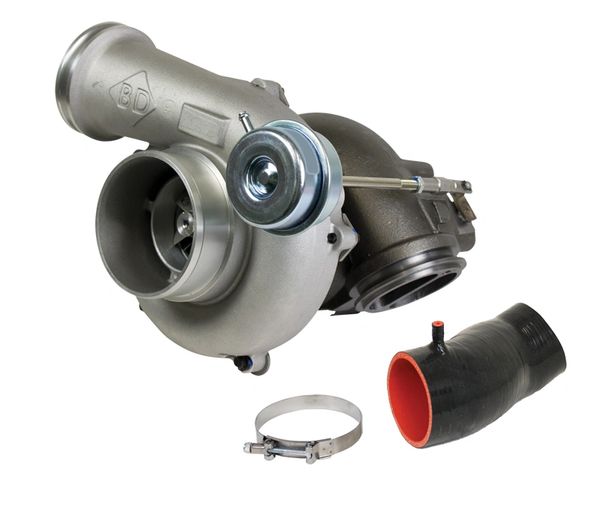 BD-Power (1047510) Turbo Thruster II
1999.5-2003 Ford Power Stroke 7.3l Turbo Thruster II 7.3l GTP38

Well respected in the industry, John Todd's specialty is turbochargers… As BD's Senior Project Engineer, when given the task to design an equivalent GTP38 performance turbo for the 1999.5-2003 Ford 7.3L Power Stroke diesel engine, John examined each component from the bottom up to produce a durable, cost-effective unit that would stand-up to higher power and heavy-haul driving demands.
When looking at the attributes of all the turbochargers in the market place and seeing where improvements can be made, we have built a unit those measures up to the more expensive ball bearing design using the durable full floating bearings that have been used in the majority of turbo designs for many years.
We use our own version of thrust collar and back plate as well our own designed sintered brass 360-degree 6-pad thrust bearing that reduces heat build-up and increases durability. Using a proven 66/88 mm compressor wheel that is HIP'd (Hot Isostatic Pressed) improves centrifugal strength at high rotating speeds and boost pressures. BD's exclusive Heavy Duty Waste Gate controls maximum boost pressure.

In production for over two years, the Performance Edition of our Turbo Thruster II 7.3L GTP38 replacement with 1.0 A/R turbine housing (part no. 1047510) has been proven in the aftermarket on non-California engines with increased fueling by reducing exhaust temperatures and smoke levels on acceleration without surging. Outperforms the stock turbocharger and improves fuel economy!
BD is proud to release a "California" version of this same Turbo Thruster II GTP38 replacement turbocharger (part no. 1047511) utilizing a 0.84 A/R turbine housing that is legal to install in California (CARB EO number D-553-2). A great fit for all off-road, street and highway 7.3L Power Stroke applications!
All of our GTP38 replacement turbochargers are serviceable and come with a new oil resistant intake hose and clamp.