BD-Power (1041460) Full Bore Exhaust Manifold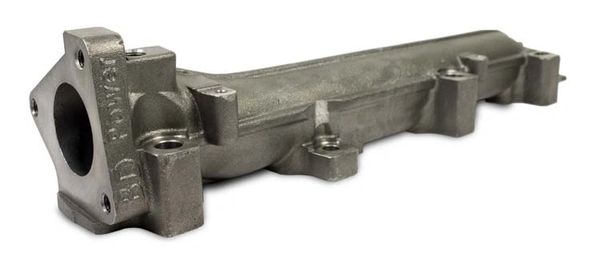 BD-Power (1041460) Full Bore Exhaust Manifold
BD Power Exhaust Manifold - 2001-2010 Duramax 1041460


Balanced exhaust flow for more power and lower EGT's!
The factory driver's side exhaust manifold on the 2001-2010 Chevy 6.6L Duramax engine is pinched down to allow for steering shaft clearance, which is actually not required. As a result, this serious restriction affects the driver's side front two cylinders, flowing only 80% of what the passenger side flows causing an imbalance between the two banks and additional heat build-up.
Aftermarket exhaust manifolds that increase the internal bore size of their units compared to the port size on the cylinder head cools the exhaust inside the manifold only, but, the temperatures inside the combustion chamber is higher because of less turbo boost.

This has a negative effect on engine performance as it decreases turbo drive pressure energy and falsely lowers EGT readings. EGT is normally monitored by the driver to determine cylinder temperatures and by changing the base temperature referred to can result in engine damage.
BD's Full Bore exhaust manifold restores exhaust flow balance, improves power and reduces EGT's inside the combustion chamber. All of which is accomplished by maintaining internal bore size thus maintaining turbo drive pressure. Get better performance and save hundreds of dollars by using BD product versus other aftermarket manifold kits.

Made from high-silicon ductile iron, the Full Bore is a direct, bolt-in replacement for the factory manifold and is even drilled and tapped to accept the most popular EGT probes.