Amp Research (75304-01A) Bed Step Bumper Step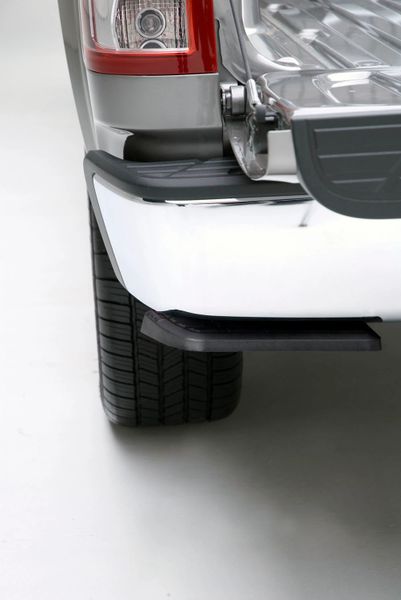 Amp Research (75304-01A) Bed Step Bumper Step
Amp Research Bed Step Bumper Step - 75304-01A

Fits: 2002-2008 2500/3500 Cummins
Go ahead and step on it. BEDSTEP® is a real time saver. Not to mention knee and back saver. Strong and rugged, this non-slip, retractable bumper step quickly flips down with the nudge of a foot providing a faster, easier and safer way to load or unload your pickup's cargo. Supports up to 300 lbs. Frame-mounts, under the rear bumper so it works even with an open tailgate or when towing. BEDSTEP® is made in the USA and backed by a 3-year/36,000-mile warranty.

FEATURES
The AMP Research BedStep® is designed to perform flawlessly in snow, ice, dust, mud and dirt. This lightweight, yet rock-solid bumper step assist employs a rugged die-cast aluminum alloy linkage assembly that is crafted in the USA, and black-anodized and PTFE coated for maximum corrosion protection. Precision, stainless-steel hinge points and press-fit bushings ensure trouble-free action and reliable, maintenance-free operation for decades. Die-cast-aluminum alloy linkage components and precision-machined pivot points give BedStep® rock-solid stability, and the PTFE coating ensures years of trouble-free, corrosion-proof operation. The ridged, non-slip step is molded of strong glass-reinforced resin, for safe footing even in mud, snow or ice.
FRAME-MOUNTED TAILGATE ACCESS STEP

ENGINEERED TO SUPPORT LOADS UP TO 300 LBS

HIGH-STRENGTH ALUMINUM ALLOY COMPONENTS

PRECISION STAINLESS-STEEL PIVOT PINS FOR ROCK-SOLID STABILITY

MAINTENANCE-FREE, SELF LUBRICATING BUSHINGS FOR ALL-WEATHER PERFORMANCE

MILITARY-SPEC, CORROSION-RESISTANT, ANODIZED AND PTFE COATED FINISH

NON-SLIP, GLASS-REINFORCED COMPOSITE STEP PAD–BIG ENOUGH FOR TWO LARGE BOOTS

EASY BOLT-ON INSTALLATION

3-YEAR/36,000-MILE WARRANTY

DESIGNED AND BUILT IN AMERICA